Beck Pack Systems provides special coated and waxed liners and aluminum frames for freezing fish fillet blocks, chicken blocks, meat blocks and surimi blocks.
To produce a perfect STANDARD fish block the following parameters have to be observed: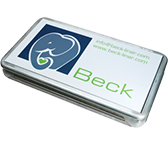 The use of correct and high-quality raw material
The dimensions and weight of the fish blocks
The dimensions and strength of the freezing frames (Beck Frames)
The quality of the cartons (Beck Liners)
The capacity of the freezing plant and the plate freezer design
The handling of the fish blocks prior to freezing
The storage of frozen products
To achieve the perfect block and minimum of waste do not underestimate the importance of high quality packaging.
The Beck liner® has diverse corners and flaps designed to meet specific customer requirements for protection against dehydration, for ease of packing and stripping and for flat block surfaces.
Beck Frames for freezing Standard fish blocks are made of sea water resistant aluminum U-, E-profiled or yet stronger XU-profiled, being available as single frames or double frames. Beck Frames only have one welding at the center of the short side thus minimizing hygienic risk.
The Beck liner® has been improved consistently through the last 40 years and this process is continuing.
Beck Liner® - The world's only ISO9001 and HACCP Certified food block liners.
For more details please click to visit: http://www.beck-liner.com/